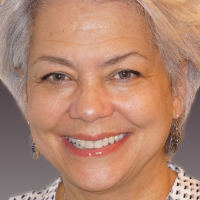 Gemina Gates, MPA, PA, RN
AAL Senior Consultant Gemina Gates has been involved in PA education since 1992. She was the founding Associate Director of the Bronx-Lebanon Hospital Center Physician Assistant Program and was responsible for the creation and development of the program which she subsequently directed from 1999-2003. Ms. Gates
Ms. Gates has held a series of faculty and administrative positions at The City College of New York/Sophie Davis School of Biomedical Education Physician Assistant Program @ Harlem Hospital Center, Lehman College and St. John's University. In 2012, she retired as the Assistant Dean/Program Director of the CCNY School of Medicine PA Program.
After leaving CCNY, her extensive consulting experience has been centered on the provision of continuous assessment, evaluation, and development of the programmatic applications for institutional and national accreditation; curriculum development; course mapping; and faculty development in many existing and provisional Physician Assistant education programs.
She received a Bachelor of Science degree from the City College of New York; a Masters Degree in Public Administration from Baruch College; and a nursing degree from the Phillips Beth Israel School of Nursing. As a consultant, she has provided services to many professional associations including the Advisory Council on Minority Attrition for the Association of Physician Assistant Programs and the U.S. Department of Health and Human Services. Some of her professional presentations have focused on issues related to development of minority faculty pipelines and strategies for reducing minority attrition in professional programs. The majority of her administrative educational career has been devoted to creating educational opportunities to underrepresented minorities emerging from educationally and economically disadvantaged backgrounds. Ms. Gates' clinical career has been dedicated to medically under-served populations.
Her clinical experience includes registered nursing and practice for more than 20 years as a board-certified physician assistant with extensive experience in general/laparoscopic surgery and orthopedic surgery. Ms. Gates was the first and only physician assistant hired by DePuy Orthopedics to train orthopedic surgeons worldwide in minimally invasive computer-assisted joint replacement surgery.