"How do you lead up in an organization?" Or the derivative, "How can I lead without having any power?" Those questions are being asked with increasing frequency, and I've been asking the same questions myself lately. After thoughtful consideration, the questions may be difficult, but perhaps the answers need not be.
A decade ago, I attended a speech on a university campus in the Midwest. Rev. Jesse Jackson spoke to an audience of roughly 200 citizens encouraging them to get out and vote. I'll paraphrase his message:
"People often tell me they have no power at work. But that's not true. They may not have formal authority of position, but they have power. They have the power of their beliefs, their convictions, and their values. They have the power of those people with whom they surround themselves. Indeed, we all have power. Now, we need to harness it."
These sentiments are even more true today than ever before. We ask these questions, because we are working in outdated organizations. The old top-down traditional hierarchy no longer adequately helps our organizations meet their aims, nor does it fit the needs of our professional employees. Those who sit on top of traditional rigid pyramids are being usurped by new nimble, agile, and responsive organizations which have learned to harness the talents of their professionals.
These new organizations are mission and value driven. They need leaders of different types spread throughout the system. Michael Useem, author of Leading Up, wrote of the old and new models: "Old work rule: Leadership is something bestowed upon you by the company or organization. It comes with the authority associated with your job title. New work rule: Leadership is everyone's responsibility. You must help lead your team, regardless of your job title or level of authority." Keith Ferrazzi, author of Leading Without Authority, wrote,"Command and control from on high are giving way to insight and initiative down under."
The classic hierarchical model seems to be all that we know; it seems to be all that we were taught and all that we experienced. It's our mimetic isomorphism—our only view of what is and what could be. The model, however, is flawed in its conception and philosophy. A fundamental presupposition is that the person higher up the pyramid knows more than those below. This is a profound misunderstanding and misapplication in a professional organization.
Frederick Taylor made a science of worker efficiency during the Industrial Age. He designed a model for factories and automatons. Max Weber, fearful of too much power in the hands of a singular boss, envisioned a bureaucratic model whereby decision making would be diffused across the organization's highly trained and objective professional workforce. Unfortunately, the model has become too rigid in structure, out of touch with the locus of the decision impact, and not responsively nimble.
So, the model in entrenched; it's all we know; it's not going away. What are we to do? How can we empower the bright professional workforce we employ? How can the intelligent and creative professionals lead up without formal authority?
We've got challenges from above. We're expecting the leaders at the top of the hierarchy to change. However, they have played by the rules to get to the top, and they were successful. Now, we want to change the rules on them. This is a tough ask. Maybe we need to challenge ourselves, first. Maybe we need to start by asking ourselves, "Has anyone led up to me? What did it look like? What culture have I established to allow and encourage my staff to lead up to me? And who are these new professionals in today's organizations?"
Michael Maccoby, author of The Leaders We Need, explained leaders need to understand today's professional workforce. This Interactive professional expects connection with others, yet a desire for autonomy. They want to work on self-sufficient teams and to be listened to. They look askance at people who wield their authority, and they often have more specific knowledge than their supervisors. Today's professionals work best not in hierarchies, but rather in collaborative heterarchies.
So, how can we model opportunities for our own staff to lead up to us? We need to establish a culture of trust and collaboration. We need to support risk-taking dialogue and encourage opportunities for different members to take leadership roles on varied projects. It will require that we listen first to understand and then to be understood. It will require that we are humble, honest, and forthright. While all of our work will be mission-driven, process in how we get there will be critical. In all, we need to treat one another with dignity and respect.
These same behaviors will go a long way in helping us to lead up to our own bosses. We need to actively listen to them and to serve them with a focus on the organization's mission. We need to understand the demands placed upon them and to respect their authority. Our leaders rely on our expertise and knowledge to serve them with wise counsel. This requires that we move from a transactional to a transformational relationship, and one with "a bias for action."
We need to critically examine our own motives and actions. We need, most of all, to be good role models to serve as exemplars of the leadership we expect. At times we will need to know when to back down and other times when to speak up. We must be forthright, communicate often, not withhold information, and be persistent. In every interaction, we need to remain humble and to treat our leaders with dignity and respect. A good place to start is with practicing The 9 Virtues of Exceptional Leaders as described by Karl Haden and Rob Jenkins.
A final personal anecdote to conclude. Thirty years ago, I was a young public school principal. I had the authority to tell my teachers to hand their next week's lesson plans in to me on Friday afternoon before they left for the weekend. They would do that. Their lessons would tell me precisely what they would be doing each hour the following week. Yet, when they closed their classroom doors on Monday morning, they would teach what and how they wanted. Did I really know what they were doing? Was I really expressing power?
On the other hand, over the weeks and months, I could sit down with my colleague teachers to discuss what we knew about how our students learned and how we believed best to teach them. This was a professional heterarchy—I empowered them by giving away my power. Then, when they turned in their lesson plans on Friday afternoon, I could be much more confident I knew what they were doing when they closed their doors on Monday morning.
We don't need authority to lead up; we need to leverage our power—the power of our beliefs, our expertise, and our values as collaborative team members.
Author: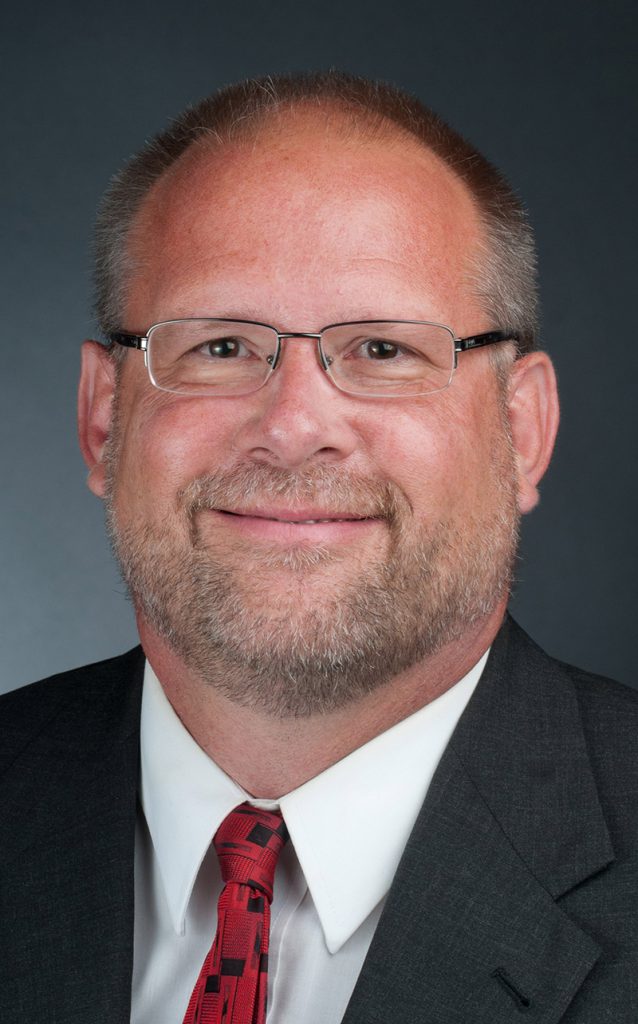 Perry R. Rettig, Ph.D., Vice President for Academic Affairs at Piedmont College in Demorest and Athens, Georgia.