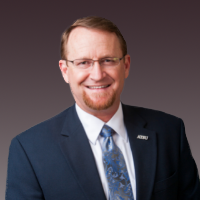 Jim Farris, PT, Ph.D.
Jim Farris, PT, PhD, began teaching in physical therapy education in 1996 and is currently consulting and teaching as an adjunct faculty member. His current scholarship efforts are aimed at cardiopulmonary fitness throughout the lifespan.
He is now in his 25th year of higher education and administration. In addition to his teaching, Dr. Farris has over a decade of academic administration and assessment experience as a department chair and associate dean and has strived for overall educational excellence in those roles. He completed the APTA's Education Leadership Institute Fellowship, is an ELI Fellow, and has served on the board of directors for the American Council of Academic Physical Therapy before joining CGHS.
He enjoys serving the community, and one our nation's most underserved populations, through his role as a clinical director for the FUNfitness program that is part of the Special Olympics Healthy Athlete's program. His home is where outdoor activity and sunshine is abundant. Work-life integration is a goal and he "sharpens the saw" through golfing, cycling, fishing, boating, hiking, cooking, brewing, and yardwork.